Personal productivity tool
Pivity.net is a web-based personal productivity tool that will help you get a hold of your life and reduce stress levels.
We help you manage your tasks (to-do lists), reference materials and files.
| | |
| --- | --- |
| Pets | Buy dog food |
| Fun | Watch latest Family Guy episode |
| Home | Clean the garage |
Tasks
Pivity is flexible. Managing tasks is super easy.
Start organizing your life now by creating tasks for your everyday life.
So many things you have to do each and every month. Or every 6 months.
Don't waste mental effort thinking about that. We've got you covered!
| | | |
| --- | --- | --- |
| | every Tuesday | Go to the gym |
| | day 02, every month | Pay internet bill |
| | every 6 months | Dentist check |
Don't ever forget a task!
Get reminded right when you need it, via email, SMS or other means.
Get to know yourself and your productivity patterns.
Keep track of how you perform, even though it's not a competition.
Notes
Notes could be used as a personal notebook.
For all non-task content you may need later.
Cooking

Tiramisu recipe
Ingredients: 7 yolks, 1 cup sugar...
Combine egg yolks and sugar. Reduce heat to low and...
Protect your notes by encrypting them with an additional password.
We only receive and store encrypted text. Your data is safe.
Private

My private note

The note's contents are encrypted.
Enter a password to get access.

This note is stored on our servers encrypted.
No one can read it, unless they know its password.
Attach files in each of your notes.
Store up to 5GB of files in your personal account.
Yeah, but what else is there?
Tasks postponing
Tasks adding by Email
Reviews and Trends features to show you where you stand
SSL encryption of your data
Keyboard shortcuts
Simple user interface
Localized user interface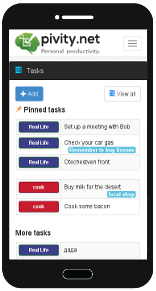 Pivity is mobile friendly!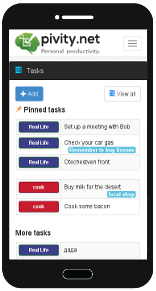 Pivity is mobile friendly!